Kite Shop Cuxhaven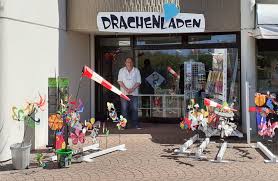 We look forward to seeing you!
Now located in the heard of Cuxhaven - Duhnen close to the dyke . A large selection of kites, accessories and wind toys is waiting for you.
And if something breaks or your kite is missing a part - we have spare parts and can repair your kite.
Shopmanager Jörn Müller is in his realm. He always has a heart for small and big desires, and a solution for little problems like a lost spar or a messed up bridle.
Beside our Spiderkites we carry kites and wind chimes of other manufacturers like Elliot, Into the Wind, Prism, HQ and some more.
And if you don't want a kite - we have also taken care of that.We offer toys for beach and apartment. We are looking forward to seeing you and do what we can to make your holiday at the North Sea even more enjoyable. And if the kite shop is closed, you can buy our kites online.
Duhner Strandstr. 2
27476 Cuxhaven Duhnen
Tel: +49 4721 540814
Monday

10:00 - 18:00

Tuesday

10:00 - 18:00

Wednesday

10:00 - 18:00

Thursday

10:00 - 18:00

Friday

10:00 - 18:00

Saturday

10:00 - 18:00

Sunday

10:00 - 18:00